5.500 SQ. KM OF RAINFOREST DESTROYED: TELL THE EU TO BAN BIOFUEL!
5.500 SQ. KM OF RAINFOREST DESTROYED: TELL THE EU TO BAN BIOFUEL!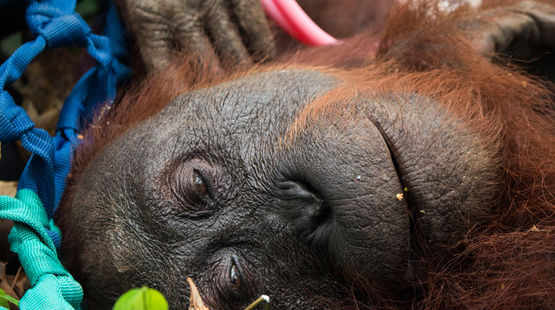 The EU's biofuels policy is literally fanning the flames in Indonesia – this rescued orangutan is one of the countless victims. ( © IAR )
One of the worst environmental disasters of our time is unfolding in Indonesia: palm oil companies are torching vast rainforest areas to expand their plantations. The EU's biofuels policy is fanning the flames, with more than 1.6 million tons of palm oil ending up in European vehicles every year. Tell the EU to stop biodiesel NOW!
Rainforests are going up in flames because of the EU's tragically misguided efforts to protect the climate with its biofuels policy. Producing the 1.6 million tons of palm oil consumed annually by European vehicles requires a plantation area of 5,500 square kilometers – that's an area of former rainforest land nearly four times the size of London or seven times the size of New York City.
The EU mandates the addition of supposedly "green" plant-based diesel to conventional fossil diesel fuel. In July, the European Council decided to raise the biofuels share from currently just under five percent to seven percent.
To meet the demand, rainforests and peatlands are going up in smoke in Indonesia, the world's largest exporter of palm oil. As of early October, this year's fires had destroyed 17,000 square kilometers of forest on Borneo and Sumatra. Companies are preparing the land for plantations using slash-and-burn practices – while illegal, it is cheaper than clearing the land mechanically, and plantation owners have little to fear in the way of legal repercussions. "Our forests are burning every year; it gets worse each time," as Nordin, a member of our partner organization Save our Borneo, reports. At least 25 million people have spent the last three months living in a hell of fire and choking pollution.
The situation is particularly dramatic in the province of Central Kalimantan on Borneo, Nordin's home. On a number of days recently, airborne particulate matter reached 90 times the World Health Organization's safe threshold – people there are dying from the air pollution.
Please call on the EU to abandon its disastrous biofuels policy for the benefit of the climate, biodiversity, and the health and well-being of millions of Southeast Asians.[]