"I just wanted to let you know that the UWRF is being censored this year, and we have been told to remove all programs to do with '1965'," she wrote. "Or else next year they will not give us a permit to hold the festival."
I felt a chill when I read these lines, and a faint sense of absurdity that accompanied the sting. For one, I was on my European book tour, having done almost nothing else in the past one and a half month but speak to German and Dutch audiences about my novel, an epic love story set against the backdrop of the Indonesian anti-communist purges of 1965.
In Düsseldorf or Erfurt, Amsterdam or the Hague, I encountered nothing but genuine empathy and solidarity for Indonesians' collective struggle to come to terms with our violent past as well as to render tangible justice for an untold many. It was particularly so in Germany, with its experience of national trauma.
This brings us to the irony of current domestic politics. For have Indonesians not, in the past 17 years since the fall of the Suharto regime, enjoyed a measure of hard-earned freedom from fear, censorship, and from restrictions to creativity?
Have we not witnessed the unprecedented burgeoning of new expression, in forms and language so alien to the 32-year pit out of which it was born? Have we not experienced, in the Ubud Writers and Readers Festival, a literary forum which for 12 years has been able to keep the "1965" discourse alive without any state intervention?
Have we not pledged ourselves to the quest for alternative histories, for new ways of seeing and thinking about the world? Have we not seen the infrastructure of freedom so long devalued – bookstores, publishing houses, the press – finally standing up for themselves and giving people their voices back?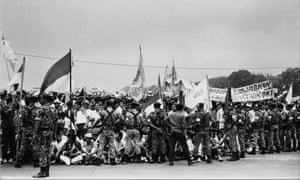 Indonesian troops control a crowd of students following the abortive coup of 1965. Photograph: Keystone/Getty Images
Have we not heard of private screenings – known by the abbreviation

 

nobar(nonton bareng; watching together) – of Joshua Oppenheimer's film

 
The Act of Killing
? Screenings that keep popping up despite crackdowns by the authorities, suggesting that Indonesians know what they want and are resourceful enough to get it?
Up until a month ago, we still tended to look on the 17 years of political and cultural renaissance as a triumph of the collective memory. Or, rather, the failure of Fascism's central conceit: that domination does not breed resistance to itself.
If the calamity of authoritarianism gave Indonesian democracy its cause, this past month threatens to show that the rifts Suharto tore in our body politic may never be mended. That censorship should coincide with the 50th anniversary of the genocide might be the key to understanding why that is.
However, if in the past month I was tentative in my public discussion of the festival censorship – stopping short, in other words, of saying that there is a rise of neo-anti-communism in

 
Indonesia
 

– it has become harder to do so now. Similar incidents that occurred within a few days of each other smack of a disheartening return to old tropes of official neurosis: taken together, they suggest an eerie revival of the Suharto era.
Take the case of Tom Iljas, a 77-year-old former political exile in Sweden. He was arbitrarily arrested and deported earlier this month for visiting a mass grave of 1965 victims in West Sumatra, in search of the final resting place of his father.